Top 5 Quotes from "Data Vs. Privacy" Webinar with Killi featuring DDP's Enoch Liang, Neil Sweeney, Ann Cavoukian and Mark Mao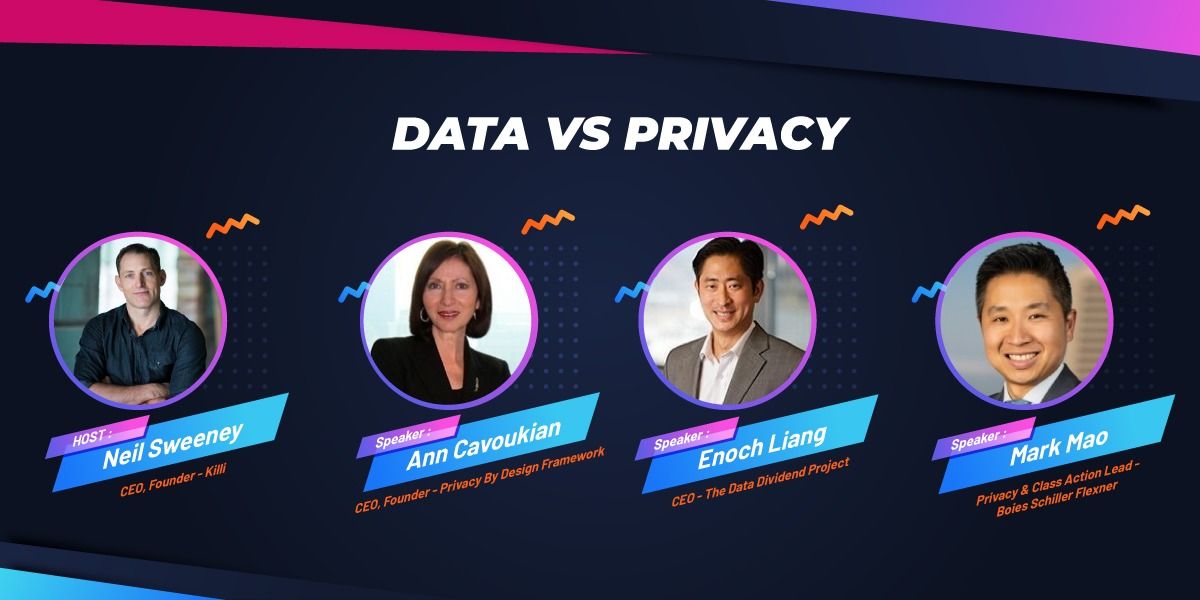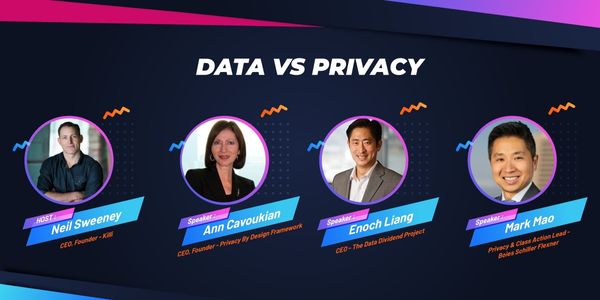 Data privacy experts Enoch Liang, Ann Cavoukian, and Mark Mao discussed data and privacy with host Neil Sweeney throughout the webinar co-hosted by Killi on Thursday, May 5th, 2021. Here are some notable comments and thoughts:
1. Privacy ought to be the standard:
"Privacy as the default setting…. it says to people "look, you don't have to search through all the terms of service, and all the legalese in the privacy policy to find the clause that says "do not breach my privacy."
No one has time to wade through everything to reach for the "do not" box - privacy needs to be the default setting. Make it automatic." - Ann Cavoukian
2. Data security requires a preemptive model:
"The entire principle l of the government coming in after the fact and cleaning up the mess is very much a US legal construct…the idea of the medical model of prevention in the first place. Because by the time the data breach happens, it's too late." - Enoch Liang
3. The value of data ought to be recognized and treated accordingly:
"Data is the new oil. You're giving it away for free. Big tech is abusing your data left and right. There are data breaches all the time. No one reads the terms of service. Something needs to change." - Enoch Liang
4. Privacy should be a positive-sum model:
"It's time to get rid of the zero-sum model. That's the prevailing view now. You can have privacy vs. security. Privacy vs. data utility. and it's never privacy that wins in that…Get rid of the "versus" and have a positive-sum model: privacy AND security. Privacy AND data utility. This is critical. This builds lasting relationships. And it strengthens your offering in a dramatic way." - Ann Cavoukian
5. Possession does not equate to ownership:
"I always tell the government and companies "[they] may have custody control over someone's information, it doesn't belong to [them], it belongs to the individual, to the data subject, so give them the right of access to their information. The companies that do this love it, because it increases the quality of their information." - Ann Cavoukian
BONUS: Part of the problem is willful foot-dragging by big tech companies:
"What I've noticed during the congressional hearings with big tech and the United States--if they don't want to do it, all of a sudden it becomes too hard: "our products will break, we can't figure it out." If they do want to do it, these are the smartest people on earth, nothing will stop them." - Enoch Liang
Click here to watch the webinar in full and check out their bio's below:
Dr. Ann Cavoukian: CEO & Founder, Global Privacy & Security by Design, THE global privacy framework underpinning hundreds of products today and implemented into every major privacy legislation around the world. Ann is one of the world's leading privacy experts and a senior fellow of the Ted Rogers Leadership Centre at Ryerson University.
Enoch Liang: CEO of the Data Dividend Project (DDP), the leading data privacy (?)organization in the US, founded in 2020.  DDP is taking on big tech and data brokers to enforce consumer data privacy rights and looking to institute universal basic income in collaboration with Andrew Yang  He is also  a co-founder of LTL Attorneys and LegalMation.
Mark Mao: Practice Lead Intellectual Property, Boies Schiller Flexner LLP. He is currently leading privacy class actions against Google in Brown v. Google (litigation on private mode) and Rodriguez v. Google (litigation on turning off Google's web and app activity).. Prior to BSF, Mark founded and chaired the data privacy practice at the national firm of Troutman Pepper.
Neil Sweeney: Chief Architect of Strategy and Culture at Killi Ltd. As the former founder and CEO of JUICE Mobile, a technology and advertising firm he founded in 2010, Neil was responsible for ushering in some of the most prolific brands and publishers into the mobile space. Yellow Pages purchased JUICE Mobile in March 2016.
______________________________________
The Data Rights Movement has started. Alone, we are no match for Big Tech and Data Brokers, but together we're a force to be reckoned with. Join the Data Dividend Project and take the first step towards getting control of your data.
Get Privacy. Get Paid. Click here to Join DDP today.